Organizational Management
Human Resource Development and Internal Training
The FPCO Group's basic policy with regard to human resources (HR) development is that people are the driving force supporting its growth strategies.
In order for the Group to achieve sustainable growth, we believe that it is necessary to provide opportunities for all employees to recognize and share the current state of the company and the direction in which it is heading. We also believe that it is necessary for each and every employee to make continuous efforts to achieve personal growth, in order to make the Group better from the perspective of employees and society.
We will continue to train and develop autonomous human resources with high and broad-minded perspectives and flexible thinking, who can think and act by themselves.
FP Corporation offers various training programs with the aim of developing the human resources that support the organization.
Most of these programs are open to all FP Corporation Group employees, and are sometimes conducted in the form of exchanges with other companies.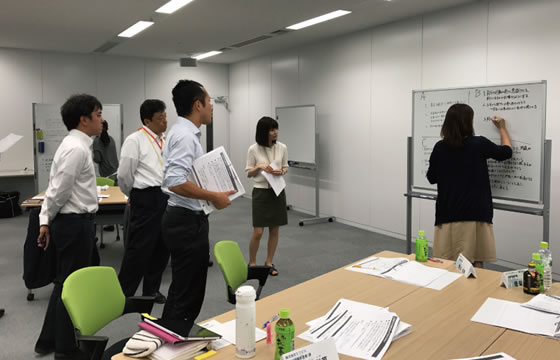 One-on-One Leader Training Sessions
Employees appointed to train others become responsible for the education of new employees as mentors for around six months to a year.
While this is training to become a mentor, it is also designed for the leaders themselves to improve their teaching skills.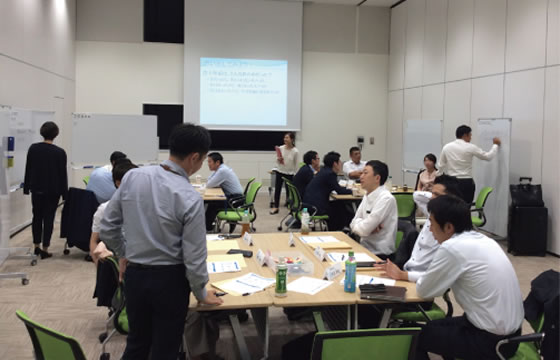 Next-Generation Training
This program is conducted for around half a year to develop the employees who will lead FP Corporation in the next generation.
Under the theme "use your own head to think," this training is designed to develop employees who can make use of their own skills to find answers in today's rapidly changing business environment and adapt to changes.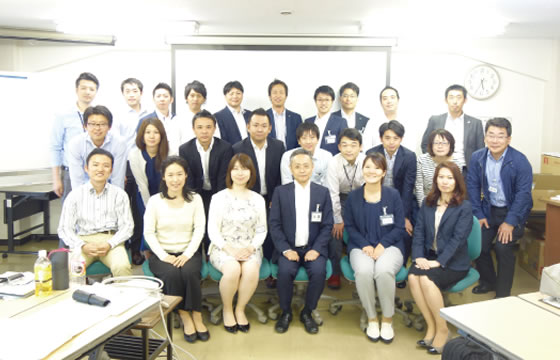 Cross-Industry Exchange Sessions
Under the theme of "learning different ways of seeing and approaching things through exchange with other companies," we also take part in joint training with companies from other industries.
As we become familiar with our daily work, the ability to collect information can become blunted, and our actions may become less bold due to assumptions. The training is designed to impart a new awareness to combat these tendencies.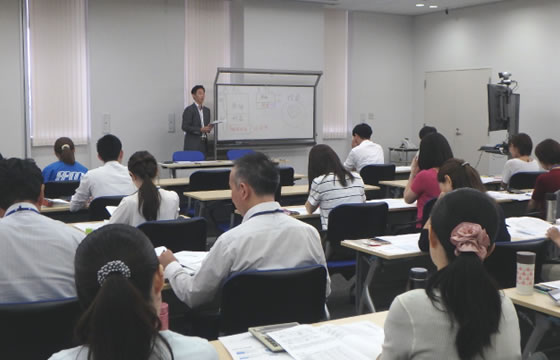 Accounting Department training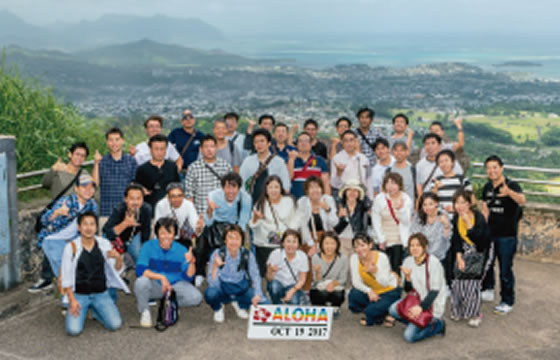 Hawaii-based training
Other Training
In addition to the program listed on the left, we conduct a range of other training programs including training designed to deepen mutual understanding between female managers and supervisors, training for managerial candidates, Accounting Department training to hone practical accounting and finance skills (above photo), and environment-related training sessions where participants learn about the creation of corporate value through the non-financial activities related to ESG and the SDGs.
Additionally, once a year we conduct Hawaii-based training (below photo) attended by around 40 FP Corporation Group employees with continuous service of at least ten years, where we observe local supermarkets and engage in exchanges between Group companies.