Risk Management
To pursue its three basic policies, of creating superior-quality products at the most competitive prices and delivering them reliably to clients when they need them, the FPCO Group is working to improve and enhance its risk management activities.
System
The Board of Directors has established Risk Management Rules, classified risks, and appropriately managing the risks of the FPCO group.
Regarding business risks related to production, sales and logistics, we hold operation meetings in which directors, executive officers and general managers participate. Regarding risk management including group companies, we hold information exchange meetings in which directors, executive officers and representatives of group companies participate.
In this way the Group has constructed an organizational system for working to manage and prevent the occurrence of risks.
The Group has also established an Internal Control Committee, which conducts checks of the state of supervision and evaluations of the effectiveness as to whether internal control systems (pertaining to financial reporting) are functioning effectively. In this way the Group has constructed an organizational system for working to manage and prevent the occurrence of risks.
Correspondence to Natural Disasters
Risk management with regard to natural disasters, which could occur anywhere at any time, requires us to be mentally prepared for an emergency at all times.
The FPCO Group has established organizational systems for making the best response in the event of a disaster by anticipating worst-case scenarios.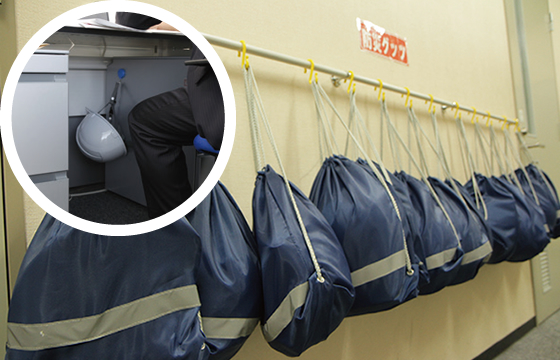 Our plants and offices are constantly equipped with helmets, first-aid supplies and emergency carry-out sets in readiness for an unexpected state of emergency.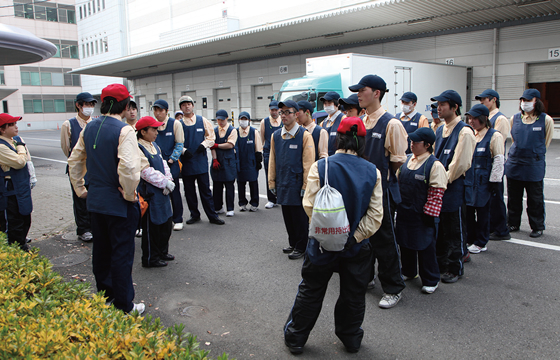 At business locations where there are employees with disabilities, unannounced evacuation drills are performed every month.
To avoid disabilities interfering with evacuations, employees learn responses to emergency situations physically, through repetitive training drills.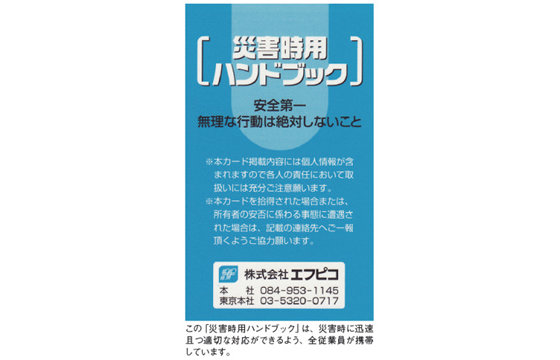 All employees carry a Disaster Handbook to enable them to respond swiftly and appropriately in the event of a disaster.
Immediately after the occurrence of the Great East Japan Earthquake, the initial response began by first taking out and reading this handbook.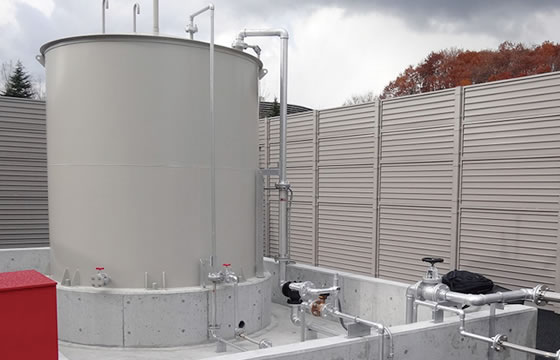 To assure the continuity of important business activities in the event of a power outage due to a disaster or other causes, all 21 logistics locations throughout Japan are equipped with emergency power generation equipment, and store enough fuel to ensure power generation capabilities for up to 72 hours (3 days).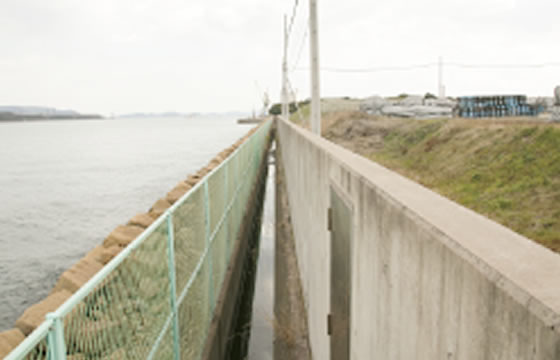 Sea walls with an approximate height of two meters have been installed to provide protection from high waves and tsunamis at the FP Corporation premises at Minooki-cho, Fukuyama, which faces Fukuyama Bay.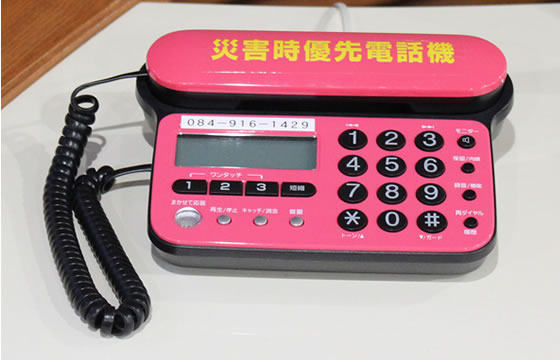 To enable communication even in the event of a large-scale disaster, each business location is equipped with an emergency hardline telephone, with priority dialing and connection.
We are also implementing other measures with a view to achieving swift recovery in the event of a disaster, such as by introducing a system to confirm the safety and well-being of our employees.
Responding to Product Safety Risks
We are under process of being certified for an international standard,"FSSC22000" food safety management system. As of the end of March 2021, 22 facilities including recycling and distribution facilities have been certified.
Quality Policy
Placing the highest priority on customer satisfaction, we aim to create environmentally friendly products that can be used safely and with peace of mind.
We will establish the following items to ensure that the policy is implemented, maintained and continued.
We will accurately interpret customer requests, establish quality management systems able to respond to them, and invest management resources to promote, maintain and establish such systems.
To promote this policy, we will establish specific quality targets.
We will comply with related laws such as the Food Sanitation Act.
We will periodically review this policy to adapt to market changes and improvements, etc. at each plant in order to maintain its appropriateness.
We will disseminate and thoroughly enforce this policy through all available means of communication to ensure that it is understood by all employees.
Responding to Information and Security Risks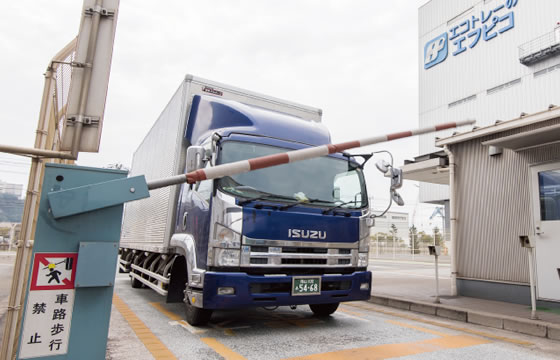 In addition to implementing entrance and exit control at offices, at large complex facilities with numerous incoming and outgoing vehicles, we have installed security gates that implement entrance and exit control based on a license plate registration system.
As measures to manage data, we take regular data backups, use outside data centers as a measure in preparation for emergencies, use duplex lines, employ systems to prevent e-mail messages for outside addresses being sent to the wrong recipients, and make use of dedicated contractors to dispose of PCs.