Actions in Employment and Labor
Basic Policy on Human Rights
The FPCO Group will create a safe, worker-friendly working environment that respects human rights and personality in accordance with the policy set out below.
Under the basic principle according to which everyone should respect the personality and human rights of one another and have the right to impartial treatment and equal opportunities without discrimination on the basis of nationality, race, faith, gender, disabilities, social status, internal position or other aspects, we will respect human rights and personality in all our business activities in accordance with the FP Corporation Group's Action Charter and the FP Corporation Normative Rules for Compliance, behave as a good corporate citizen with high moral values and social conscience, maintain sound and normal relationships with all stakeholders and continuously increase our corporate value as a corporate group that earns trust from society.
We will prohibit harassment and will not tolerate verbal or behavioral harassment. We will establish a system for the prevention of harassment and take appropriate action against harassment that occurs in order to deter harassment and thereby ensure efficient business operations and a stress-free working environment.
We will comply with laws, ordinances and other labor standards and prohibit child labor and forced labor in any location where business activities are conducted.
As an employer, we will not only prevent health hazards but will also encourage employees to control their health themselves. For this purpose, we will manage their working hours on the basis of the labor-management agreement on working hours to prevent any employee from working excessively long hours.
On the basis of data on their work and their health checkups, we will provide employees with opportunities to consult industrial doctors and take measures to restrict their work if necessary. We will also strive to improve their work-life balance.
We will observe labor laws and ordinances and pay employees the minimum wage or higher.
As an employer, we will regard workers' collective rights, among other rights, as part of their fundamental human rights to be respected, and we will not hinder them from exercising their rights.
Improving Job Satisfaction
Basic Human Resources Policy
We believe that fulfilling the role of fully harnessing the individual skills and qualities of each and every Group employee and developing an environment in which employees can work with satisfaction, fulfillment and vigor is one of the management challenges linked with improved corporate value.
We will respect the fundamental human rights of everyone in all aspects of our corporate activities, including recruitment, and we will not discriminate against anyone or harm anyone's personal dignity on the basis of nationality, race, faith, gender, disabilities, social status or other aspects.
Helping Employees Achieve a Healthy Work-life Balance
FP Corporation has proactively considered the distribution of working hours through initiatives such as curbing long overtime hours by having employees concentrate on working during busy times of day to improve work productivity, introducing a flex-time system, allowing employees to utilize sliding start and finish times, requiring employees to take paid leave of five consecutive days (Smile Leave), and instituting no-overtime days. These policies are part of workstyle reform efforts designed to optimize employees' working hours.
Operation of a Re-hiring Scheme for Senior Human Resources
Since April 2006, FP Corporation has operated a re-hiring scheme for employees subject to mandatory retirement at age 60 who wish to be re-employed. In FY2017, 100% (FP Corporation results) of mandatory retirees took advantage of the scheme.
Measures to Harassment Prevention
We carry out harassment prevention training by giving lectures based on examples and precedents and watching DVDs for all managers of the FPCO Group, and we are promoting the creation of a pleasant working environment.
Creating a Comfortable Working Environment for Female Employees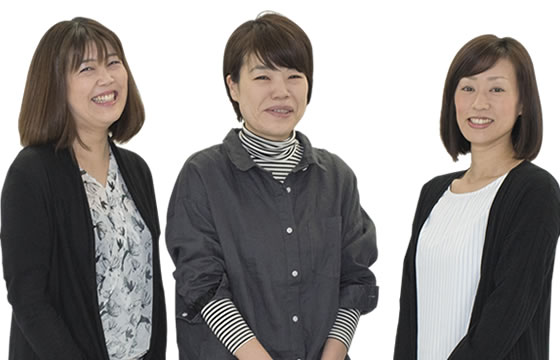 Promoting Female Empowerment
On the Positive Action Information Portal Site operated by the Ministry of Health, Labour and Welfare, FP Corporation has posted a "Declaration on the Promotion of Female Empowerment" outlining initiatives designed to expand the working fields of female employees, support their continued employment and increase the number of female managers.
Aiming for a female career track hiring rate of at least 30%, we are working towards the goal of 50 female managers by the year 2022.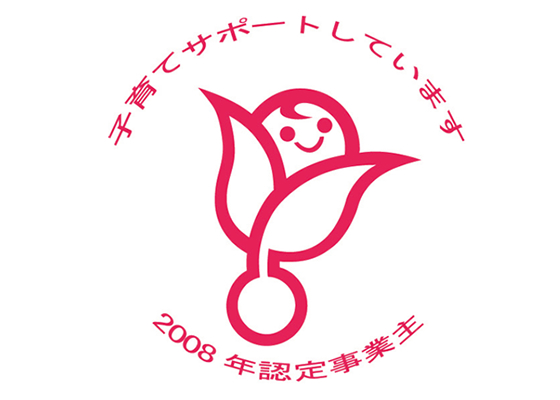 Certified as a parenting-friendly company by the Ministry of Health, Labor and Welfare.
Support for balancing work and family
Most of FP Corporation's female employees stay employed after marriage, and almost all those entitled to childcare leave take it.
With regard to working hours, 8 patterns of staggered working hours are available, and all applicants are allowed to work for a short time before their children enter elementary school.
We are committed to creating a workplace in which women can flourish as a company offering a pleasant workplace for female employees even if they are married or have children.
Support for Enhancing Private Life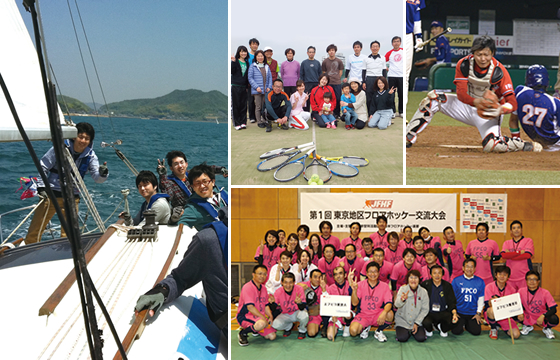 We offer financial support for recreational activities conducted by employees for enjoyment, such as baseball, yachting, tennis and floor hockey.
Non-sporting activities and welcome parties are also entitled to our financial support. We also provide a welfare program that allows employees to enjoy lodging facilities and amusement facilities nationwide at reduced rates in a bid to help them enjoy spending time with friends and family members.