Health & Safety
Basic Policy
In its efforts to ensure the health and safety of not only its employees but also stakeholders and all other people involved in its business activities, the FPCO Group is striving to develop a better working environment and increase awareness with regard to health and safety issues.
Health & Safety Initiatives
The FPCO Group observes and complies with the Industrial Safety and Health Act and other relevant laws and regulations. At business locations with 50 or more employees, we have appointed Safety and Health Managers, and are working to create a workplace environment in which employees can work in safety.
Once a month, we hold regional Safety and Health Committee meetings, and endeavor to improve awareness of health and safety through the reporting and sharing of activities in each business location and department.
Moreover, through health consultations and annual stress checks with industrial doctors, we are engaged in efforts to maintain both the mental and physical health of our employees.
Education and Training
Health Seminar
Every year, we hold a Health Seminar aimed at maintaining and improving the level of employees' mental and physical health. In FY2018 we held an "Eye Health Seminar," in which 55 employees participated.
The official title given to the seminar was "The Surprisingly Unknown World of Eyes." In addition to deepening participants' understanding on eye-related topics ranging from the basic functions of the eyes to illnesses affecting the eyes, the seminar also sought to reestablish their recognition of how precious their eyes are, maintain and improve health, and link this on to improvements in productivity.
Safe Driving Training
As one element of our training for newly recruited employees every year, we operate a Driving Training course. Participants spend one day at an external driving school learning about safe driving. This year, too, 43 new employees participated.
As a brief outline of the training course, participants first learn about their own driving abilities, level of health and maturity, personality traits and driving manners through a driving aptitude diagnostic test. Next, they drive on actual public roads and recognize points for improvement in their driving by receiving specific pointers from the instructor with regard to points for attention and other realizations, and make effective use of these in improving their driving skills with a view to becoming safer drivers. This not only heightens employees' awareness with regard to safe driving, but also leads to reductions in accidents after they are assigned to their respective positions.
We also operate (automobile) Safe Driving Courses at major sales offices run by external instructors in order to prevent the occurrence of traffic accidents. In FY2018, a total of 70 employees participated in these courses.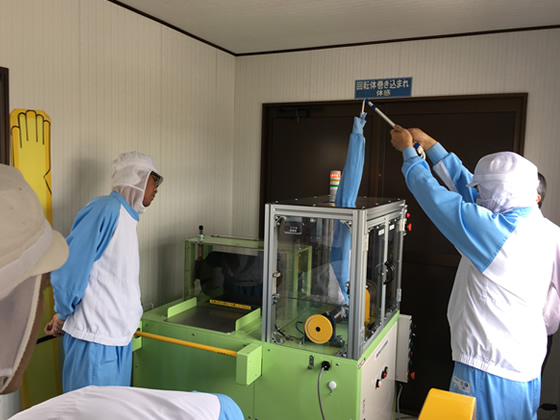 Danger Experience Courses
In 2015, we introduced our "danger experience apparatus" and commenced training activities as one part of our efforts to prevent occupational accidents.
In 2017, we installed seven different types of danger experience apparatus in two portable building units, complete with dedicated instructors, and began using them to conduct activities nationwide.
In 2017, the number of participating trainees reached 2,513 (at a total of 19 locations around Japan).
VR experience
In 2018, we introduced virtual reality (VR) danger experience apparatus.
Using shocks and sensations delivered using a combination of CG video footage and haptic gloves, these devices stimulate participants' senses of sight, hearing and touch to deliver a realistic and immersive simulated experience, through which they are trained to increase their sensitivity to danger.
Currently, the program offers three scenarios: being sandwiched by a belt conveyor, being caught up in a roller, and falling from an elevated location.
Initiatives to Prevent Accidents Requiring Time Off Work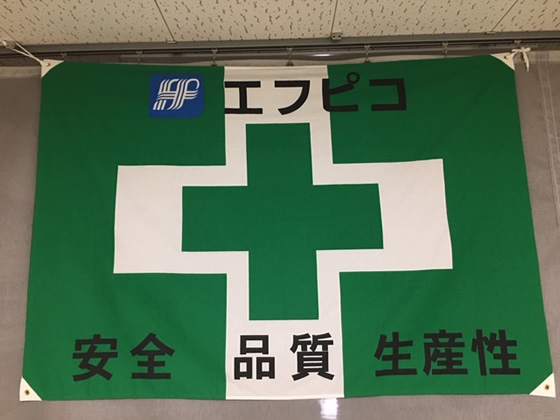 In addition to day-to-day machinery inspections, as a means of preventive maintenance we are also considering the use of intensive monitoring systems (in which the machines are monitored using sensors attached to the various working parts of each machine) in order to check the operational status and accumulate equipment-related data.
Information relating to accidents and disasters occurring at our plants is shared by using an information sharing system to post causes and countermeasures, and to deploy those measures at other locations in order to prevent reoccurrences. By displaying health and safety flags inside our plants, we are aiming to achieve a zero incident rate by striving to ensure (1) safety, (2) quality, and (3) productivity.