Actions in Product Development
Reduction of Environmental Impacts Based on Thinking and Implementation through Products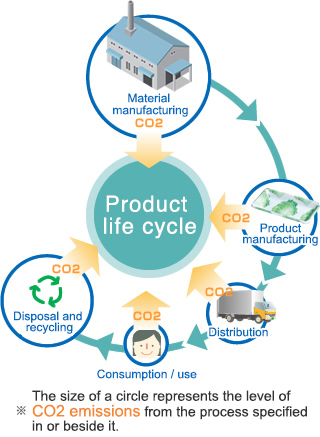 The product development team also has the role of closely reviewing the product life cycle and visualizing CO2 emissions from individual processes.
We calculate our environmental impacts using the life cycle assessment method.
The resulting value is shared among all Working Groups and serves as a basis for measures formulated by individual Working Groups.
As portrayed in the diagram on the right, it is known that the processes of material manufacturing and disposal and recycling have high CO2 emissions.
In view of this, we are focusing our efforts on circular recycling, which processes used trays into pellets, and on using the pellets as a material.
This method alone reduces the CO2 emissions from the two processes among those in the product life cycle.
We also develop technologies for producing products from smaller quantities of materials and undertaking green procurement and other efforts in the aspect of materials procurement.
What Can be Done with Product Development
FPCO's food trays and containers are aimed at increasing convenience for consumers as end users and for customers, i.e. retailers, who use these products.
In addition, the process of product development is also a good opportunity for achieving environmental impact reduction through products.
Food trays and containers developed by FPCO are not merely useful products with different functions. They are also an embodiment of ideas for slashing environmental impacts.
Reducing Material Weight and Thickness
Original products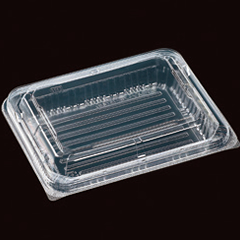 New transparent PP container
It is for food trays and containers with high heat resistance and low thickness. (Heatproof temperature: 110°C; Microwavable)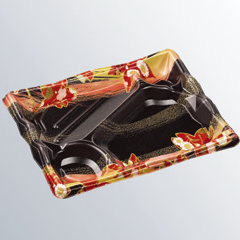 Multi FP (MFP) container
It has excellent heat and cold resistance and heat insulation. (Heatproof temperature: -4°C to 110°C; Microwavable)
It has been developed in pursuit of low weight. (Lightweight material: Approximately 60% lighter than polypropylene with filler)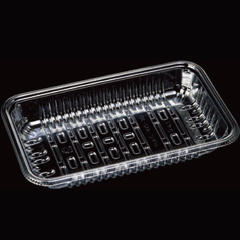 1 biaxially oriented PET
Its strength is increased by orienting the sheet in one direction. In addition to its increased strength, it also features a weight that is around 25% lower than that of non-oriented PET.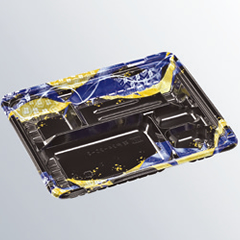 Multi Solid (MSD) container
It is a non-foamed version of the Multi FP®. It has high levels of heat resistance and oil resistance. (Heatproof temperature: 110°C)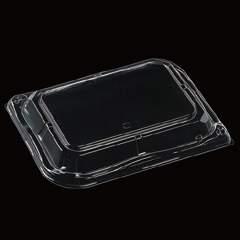 OPET transparent container
It has a heatproof temperature of 80°C equivalent to that of the OPS by drawing PET vertically and horizontally while retaining the conventional properties of oil resistance and transparency.
Use of recycled raw material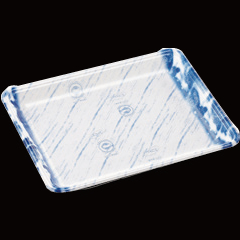 Eco Tray®
It is recycled from foamed PS containers collected at supermarkets and elsewhere.
It is a circular recycling tray that can be recycled many times.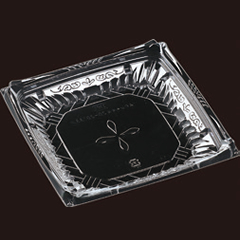 Eco APET container®
Transparent containers made of PET containers and PET bottles collected at supermarkets and elsewhere are recycled into transparent containers. It has superior transparency and oil resistance.
PP : Polypropylene
MFP : Polystyrene that has excellent heat and cold resistance and heat insulation.
PET : Polyethylene terephthalate
OPS : The bi-axially oriented polystyrene
MSD : non-foamed polystyrene created by improving the Multi FP.
APET : Non-crystalline polyethylene terephthalate